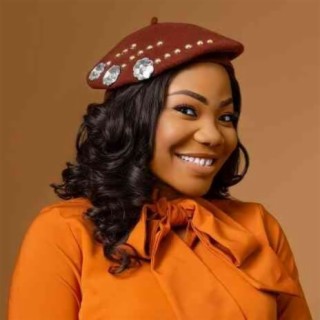 Mercy Chinwo
Current #76

All Time #103

Mercy Nnenda Chinwo, professionally known as Mercy Chinwo is a singer,songwriter and actress. She was born on 6 September 1990 in Port Harcourt, Rivers state. She is the fourth child in a family of five (first daughter).

Mercy Chinwo was brought up by her mother after she lost her dad during her early stages of life.Chinwo got involved in music at age 8, being a member of the children's choir in her church and transitioning to the adult choir prior to launching her musical career, she has also worked as a backup vocalist to gospel ministers like Sammie Okposo, Joe Praize, Buchi, Chris Morgan and Preye. Her hunger and love for music made her to start performing in musical competitions and in 2012, she came to the spotlight after winning in the popular talent show 'Nigerian Idols'.

In 2015, she released her debut single Testimony and subsequently Igwe in 2016. These Mercy Chinwo's songs slowly introduced her to the gospel music scene. In 2017 Mercy Chinwo signed for EeZee Concepts and in February 2018, Mercy released her debut studio album The Cross: My Gaze. The 16-track contemporary gospel songs were released by EeZee Conceptz under Dixtrit Media. Since then, she was awarded the Best Gospel Artiste at the CLIMAX Awards the same year. Mercy is widely known for her hit single Excess Love (2018). Mercy Chinwo's song earned her national and international recognition and sealed her status as one of the best vocalists in the Nigerian Gospel music ministry.

She released her second album "Satisfied", a 13-track album, on 3rd July 2020. She went on to win Gospel Artiste of the year at the AFRIMMA Awards. Mercy Chinwo also doubles as an actress. In 2013, she featured in the movie House of Gold. House of Gold is a Ghanaian-Nigerian comedy film produced by Yvonne Nelson and directed by Pascal Amanfo. She starred as Lucia and featured alongside Yvonne Nelson, Majid Michel, Omawumi, Ice Prince, Eddie Watson, Francis Odega....more

Country/Region : Nigeria
Listen to Mercy Chinwo's new songs including "Confidence", "Wonder", "Hollow" and many more. Enjoy Mercy Chinwo's latest songs and explore the Mercy Chinwo's new music albums. If you want to download Mercy Chinwo songs MP3, use the Boomplay App to download the Mercy Chinwo songs for free. Discover Mercy Chinwo's latest songs, popular songs, trending songs all on Boomplay.
Mercy Nnenda Chinwo, professionally known as Mercy Chinwo is a singer,songwriter and actress. She was born on 6 September 1990 in Port Harcourt, Rivers state. She is the fourth child in a family of five (first daughter).

Mercy Chinwo was brought up by her mother after she lost her dad during her early stages of life.Chinwo got involved in music at age 8, being a member of the children's choir in her church and transitioning to the adult choir prior to launching her musical career, she has also worked as a backup vocalist to gospel ministers like Sammie Okposo, Joe Praize, Buchi, Chris Morgan and Preye. Her hunger and love for music made her to start performing in musical competitions and in 2012, she came to the spotlight after winning in the popular talent show 'Nigerian Idols'.

In 2015, she released her debut single Testimony and subsequently Igwe in 2016. These Mercy Chinwo's songs slowly introduced her to the gospel music scene. In 2017 Mercy Chinwo signed for EeZee Concepts and in February 2018, Mercy released her debut studio album The Cross: My Gaze. The 16-track contemporary gospel songs were released by EeZee Conceptz under Dixtrit Media. Since then, she was awarded the Best Gospel Artiste at the CLIMAX Awards the same year. Mercy is widely known for her hit single Excess Love (2018). Mercy Chinwo's song earned her national and international recognition and sealed her status as one of the best vocalists in the Nigerian Gospel music ministry.

She released her second album "Satisfied", a 13-track album, on 3rd July 2020. She went on to win Gospel Artiste of the year at the AFRIMMA Awards. Mercy Chinwo also doubles as an actress. In 2013, she featured in the movie House of Gold. House of Gold is a Ghanaian-Nigerian comedy film produced by Yvonne Nelson and directed by Pascal Amanfo. She starred as Lucia and featured alongside Yvonne Nelson, Majid Michel, Omawumi, Ice Prince, Eddie Watson, Francis Odega.
FAQs about Mercy Chinwo
Where is Mercy Chinwo from?
She is from Nigeria.
What are the latest songs of Mercy Chinwo?
The latest songs of Mercy Chinwo are Amazing God, Excess Love and Confidence.
What are the best songs of Mercy Chinwo?
The best songs of Mercy Chinwo are Obinasom, Na You Dey Reign and Chinedum.
What are the best albums of Mercy Chinwo?
The best albums of Mercy Chinwo are SATISFIED, The Cross: My Gaze and Suddenly + Amazing God (Double Single).
How to download songs of Mercy Chinwo?
You can download songs of Mercy Chinwo from Boomplay App for free.
Firstly, install Boomplay app on your mobile phone.
Secondly, navigate to the song you would like to download.
Thirdly, Tap on More > Download.