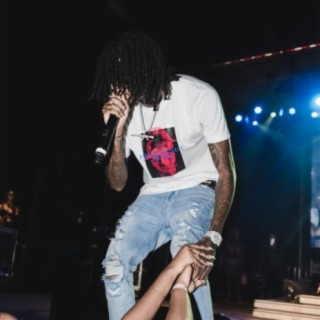 Alkaline
Current #533

All Time #350

Earlan Bartley (born December 19, 1993), better known as Alkaline, is a Jamaican Dancehall and Reggae musician from Kingston, Jamaica. Many Alkaline songs become very popular and trendy online with a great number of streaming and downloads on Boomplay. Strategic in his mysterious persona and a burning beacon for the reggae-dancehall genre, Alkaline who is known for his aggressive hip-hop influenced style artistically captures the core of the genres past whilst embodying todays diversity.

Earlan was born in Kingston's Victoria Jubilee Hospital. He attended Ardenne High School and studied Media and Communication at the University of the West Indies.

Career
During his time in high school is when he started to have the determination for music. With the support of his close friends he visited local recording studios after school whenever he had the chance.

Bartley began recording at the age of 16 and using the stage name Alkaline. When he was still in school, he made songs like "Proof", "Mi Love Woman", "Reflections" and "Missing You" creating long-term predictions and expressing his teenage experiences while making music videos on school grounds and in the streets of Jamaica with his close friends.

He eventually began working with Notnice Records and UIM Records and became popular in Jamaica with a series of singles like "123", "High Suh", "Bruk Out", "Things Mi Love" and "Live Life" but the single he was very well known for was "Move Mountains", He went on to feature those singles on multiple EPs and Mixtapes.

Follow Boomplay and keep up to date with the latest Alkaline songs and information.

Alkaline Songs and Albums
• New Level Unlocked (Album)
• Top Prize (Album)
• 123 EP
• Gone Away - EP
• F*ck You EP
• Ride or Die EP
• Missing You
• Reflections
• Proof
• Walk With You
• Link
• Nuh Like People
• High Suh
• 123
• Make It Clap
• Mouth Talk
• Helter Skelter
• Dutty Badmind
• Deep Sleep
• Heartless Killaz
• Richer & Richer
• Black Heart
• Thug Lovin
• Nuh Average
• Big Tyma
• Nuh Wife

Alkaline songs are included in Boomplay music playlists. Search to stream and download Alkaline songs MP3/ single/ albums on the platform....more

Country/Region : Jamaica
Songs

(93)

Albums

(39)

Playlists

(1)
1

2

3

4

5

6

7

8

9

10

11

12

13

14

15

16

17

18

19

20

21

22

23

24

25

26

27

28

29

30

31

32

33

34

35

36

37

38

39

40

41

42

43

44

45

46

47

48

49

50

51

52

53

54

55

56

57

58

59

60

61

62

63

64

65

66

67

68

69

70

71

72

73

74

75

76

77

78

79

80

81

82

83

84

85

86

87

88

89

90

91

92

93
Listen to Alkaline's new songs including "ATM Remix ft. Shatta Wale", "Ocean Wave", "Champion Boy" and many more. Enjoy Alkaline's latest songs and explore the Alkaline's new music albums. If you want to download Alkaline songs MP3, use the Boomplay App to download the Alkaline songs for free. Discover Alkaline's latest songs, popular songs, trending songs all on Boomplay.
Earlan Bartley (born December 19, 1993), better known as Alkaline, is a Jamaican Dancehall and Reggae musician from Kingston, Jamaica. Many Alkaline songs become very popular and trendy online with a great number of streaming and downloads on Boomplay. Strategic in his mysterious persona and a burning beacon for the reggae-dancehall genre, Alkaline who is known for his aggressive hip-hop influenced style artistically captures the core of the genres past whilst embodying todays diversity.

Earlan was born in Kingston's Victoria Jubilee Hospital. He attended Ardenne High School and studied Media and Communication at the University of the West Indies.

Career
During his time in high school is when he started to have the determination for music. With the support of his close friends he visited local recording studios after school whenever he had the chance.

Bartley began recording at the age of 16 and using the stage name Alkaline. When he was still in school, he made songs like "Proof", "Mi Love Woman", "Reflections" and "Missing You" creating long-term predictions and expressing his teenage experiences while making music videos on school grounds and in the streets of Jamaica with his close friends.

He eventually began working with Notnice Records and UIM Records and became popular in Jamaica with a series of singles like "123", "High Suh", "Bruk Out", "Things Mi Love" and "Live Life" but the single he was very well known for was "Move Mountains", He went on to feature those singles on multiple EPs and Mixtapes.

Follow Boomplay and keep up to date with the latest Alkaline songs and information.

Alkaline Songs and Albums
• New Level Unlocked (Album)
• Top Prize (Album)
• 123 EP
• Gone Away - EP
• F*ck You EP
• Ride or Die EP
• Missing You
• Reflections
• Proof
• Walk With You
• Link
• Nuh Like People
• High Suh
• 123
• Make It Clap
• Mouth Talk
• Helter Skelter
• Dutty Badmind
• Deep Sleep
• Heartless Killaz
• Richer & Richer
• Black Heart
• Thug Lovin
• Nuh Average
• Big Tyma
• Nuh Wife

Alkaline songs are included in Boomplay music playlists. Search to stream and download Alkaline songs MP3/ single/ albums on the platform.
New Comments(
93

)
FAQs about Alkaline
Where is Alkaline from?
He is from Jamaica.
What are the latest songs of Alkaline?
The latest songs of Alkaline are Open A Brain, Open A Brain (Radio Edit) and If Dem Eva (Radio).
What are the best songs of Alkaline?
The best songs of Alkaline are Weh We a Guh Do, ATM Remix ft. Shatta Wale and Ocean Wave.
What are the best albums of Alkaline?
The best albums of Alkaline are Top Prize, Raw as Eva and ATM Remix (feat. Shatta Wale).
How to download songs of Alkaline?
You can download songs of Alkaline from Boomplay App for free.
Firstly, install Boomplay app on your mobile phone.
Secondly, navigate to the song you would like to download.
Thirdly, Tap on More > Download.