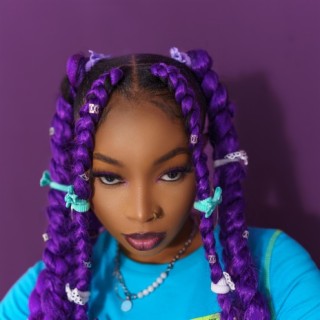 Guchi
Current #268

All Time #77

Ugochi Lydia Onuoha is the Nigerian Afropop singer, songwriter and
performing act globally known as Guchi. As a young chorister in her church
choir, Ugochi was exposed to the basics of music composition and
performance, shaping her up to join the league of terrific talents to come out
of Africa in the 2020 decade. Following the virality of her hit single Jennifer, The
Afropop singer is also recognized as one of the pioneers to define Tiktok as a
massive influencing tool for talent discovery and music distribution.
Guchi is the second child of the Onuoha family and she describes herself as
driven and ambitious. Her music style consists of melodious wide-ranged
vocals, addictive hooks and emotionally triggering topics that have helped
her produce long-lasting hits. "My music is for every music lover who has
emotions", she says. "It is not limited to any particular group, tribe, region or
continent".
Another strong suit that the Abuja raised singer possesses is her theatric

performative style. Likely to be caught in vivacious purple hair, boyfriend Tee-
shirts and high fashion boots, Guchi has perfected the art of breathing extra

life into her craft through dance and role-play. A vivid example of this is her
characterization of a psychotic girlfriend during the Jennifer release period.
The infectious dance routine of Benzema, Scatter My Head and Speedometer,
also weaves into the overall continued success of the song.
As Africa continues to balance out the consistent representation of women in
its music industry, Guchi pulls enough weight to tilt the scale. She has her mind
set on sustainable career growth, and global acceptance of her music beyond
Africa and inspiring generations to come with her music. Guchi is currently
signed to PG Records Entertainment....more

Country/Region : Nigeria
Listen to Guchi's new songs including "Jennifer", "Benzema", "Jennifer (Remix) ft. Rayvanny" and many more. Enjoy Guchi's latest songs and explore the Guchi's new music albums. If you want to download Guchi songs MP3, use the Boomplay App to download the Guchi songs for free. Discover Guchi's latest songs, popular songs, trending songs all on Boomplay.
Ugochi Lydia Onuoha is the Nigerian Afropop singer, songwriter and
performing act globally known as Guchi. As a young chorister in her church
choir, Ugochi was exposed to the basics of music composition and
performance, shaping her up to join the league of terrific talents to come out
of Africa in the 2020 decade. Following the virality of her hit single Jennifer, The
Afropop singer is also recognized as one of the pioneers to define Tiktok as a
massive influencing tool for talent discovery and music distribution.
Guchi is the second child of the Onuoha family and she describes herself as
driven and ambitious. Her music style consists of melodious wide-ranged
vocals, addictive hooks and emotionally triggering topics that have helped
her produce long-lasting hits. "My music is for every music lover who has
emotions", she says. "It is not limited to any particular group, tribe, region or
continent".
Another strong suit that the Abuja raised singer possesses is her theatric

performative style. Likely to be caught in vivacious purple hair, boyfriend Tee-
shirts and high fashion boots, Guchi has perfected the art of breathing extra

life into her craft through dance and role-play. A vivid example of this is her
characterization of a psychotic girlfriend during the Jennifer release period.
The infectious dance routine of Benzema, Scatter My Head and Speedometer,
also weaves into the overall continued success of the song.
As Africa continues to balance out the consistent representation of women in
its music industry, Guchi pulls enough weight to tilt the scale. She has her mind
set on sustainable career growth, and global acceptance of her music beyond
Africa and inspiring generations to come with her music. Guchi is currently
signed to PG Records Entertainment.
New Comments(
652

)
FAQs about Guchi
Where is Guchi from?
She is from Nigeria.
What are the latest songs of Guchi?
The latest songs of Guchi are Benzema (Mixed), Scatter My Head (Mixed) ft. Zlatan and All Over You (Mixed).
What are the best songs of Guchi?
The best songs of Guchi are Jennifer, Benzema and Scatter ft. Zlatan.
What are the best albums of Guchi?
The best albums of Guchi are Jennifer, Benzema and Purple Diary.
How to download songs of Guchi?
You can download songs of Guchi from Boomplay App for free.
Firstly, install Boomplay app on your mobile phone.
Secondly, navigate to the song you would like to download.
Thirdly, Tap on More > Download.