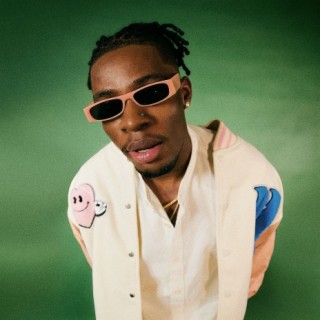 Joeboy
Current #30

All Time #6

Joeboy, is a Nigerian singer and songwriter. Mr. Eazi of record label "emPawa Africa" discovered him in 2017. His genre of music is that of Afro pop and R&B. He was born on 21 May 1997 in Lagos State, Nigeria.

Making waves since his 2019 breakout single "Baby," Nigerian Afro-pop star Joeboy cemented his reputation with the release of his 2021 debut album, the forward-thinking and precisely crafted Somewhere Between Beauty & Magic.

Born and raised in Lagos, Joeboy (aka Joseph Akinwale Akinfenwa) immersed himself in music while studying, taking in hip-hop, trap, R&B, rock, and pop from around the world. His first break came with a cover of Ed Sheeran's "Shape of You" that he'd posted to social media, with the post capturing the attention of Banku pioneer Mr. Eazi. Signing to Eazi's emPawa Africa project -- which was started to provide support for up-and-coming African artists -- Joeboy delivered his first single, "Fààjí," in 2018. The following year, he truly broke out with the release of "Baby," which went on to earn millions of streams across the Internet and cemented his position as one of Nigeria's biggest future pop exports. That same year, he collected "Baby" and a string of other tracks for the EP Love & Light, along with being nominated for numerous awards at The Headies, All Africa Music Awards, and City People Music Awards.

2020 saw Joeboy start work on his debut album, readying tracks that would not only deal with social ills but spread positive messages via his canny mix of pop and Afrobeat. He also picked up more award nominations, this time at the 2020 Soundcity MVP Awards Festival, where he would win the Best Pop song. At the beginning of 2021, he released his debut album, the forward-thinking slab of Afro-pop Somewhere Between Beauty & Magic. Download Joeboy's songs, Album and EPs on Boomplay....more

Country/Region : Nigeria
Listen to Joeboy's new songs including "Sip (Alcohol)", "Body & Soul", "Focus" and many more. Enjoy Joeboy's latest songs and explore the Joeboy's new music albums. If you want to download Joeboy songs MP3, use the Boomplay App to download the Joeboy songs for free. Discover Joeboy's latest songs, popular songs, trending songs all on Boomplay.
Joeboy, is a Nigerian singer and songwriter. Mr. Eazi of record label "emPawa Africa" discovered him in 2017. His genre of music is that of Afro pop and R&B. He was born on 21 May 1997 in Lagos State, Nigeria.

Making waves since his 2019 breakout single "Baby," Nigerian Afro-pop star Joeboy cemented his reputation with the release of his 2021 debut album, the forward-thinking and precisely crafted Somewhere Between Beauty & Magic.

Born and raised in Lagos, Joeboy (aka Joseph Akinwale Akinfenwa) immersed himself in music while studying, taking in hip-hop, trap, R&B, rock, and pop from around the world. His first break came with a cover of Ed Sheeran's "Shape of You" that he'd posted to social media, with the post capturing the attention of Banku pioneer Mr. Eazi. Signing to Eazi's emPawa Africa project -- which was started to provide support for up-and-coming African artists -- Joeboy delivered his first single, "Fààjí," in 2018. The following year, he truly broke out with the release of "Baby," which went on to earn millions of streams across the Internet and cemented his position as one of Nigeria's biggest future pop exports. That same year, he collected "Baby" and a string of other tracks for the EP Love & Light, along with being nominated for numerous awards at The Headies, All Africa Music Awards, and City People Music Awards.

2020 saw Joeboy start work on his debut album, readying tracks that would not only deal with social ills but spread positive messages via his canny mix of pop and Afrobeat. He also picked up more award nominations, this time at the 2020 Soundcity MVP Awards Festival, where he would win the Best Pop song. At the beginning of 2021, he released his debut album, the forward-thinking slab of Afro-pop Somewhere Between Beauty & Magic. Download Joeboy's songs, Album and EPs on Boomplay.
New Comments(
2,033

)
FAQs about Joeboy
Where is Joeboy from?
He is from Nigeria.
What are the latest songs of Joeboy?
The latest songs of Joeboy are Show Me (Mixed) and Sip (Alcohol) [Mixed].
What are the best songs of Joeboy?
The best songs of Joeboy are Sip (Alcohol), Body & Soul and Focus.
What are the best albums of Joeboy?
The best albums of Joeboy are Body & Soul, Somewhere Between Beauty & Magic and Love & Light EP.
How to download songs of Joeboy?
You can download songs of Joeboy from Boomplay App for free.
Firstly, install Boomplay app on your mobile phone.
Secondly, navigate to the song you would like to download.
Thirdly, Tap on More > Download.