Davido's 'Timeless' Surpasses 10 million Streams & Counting on Boomplay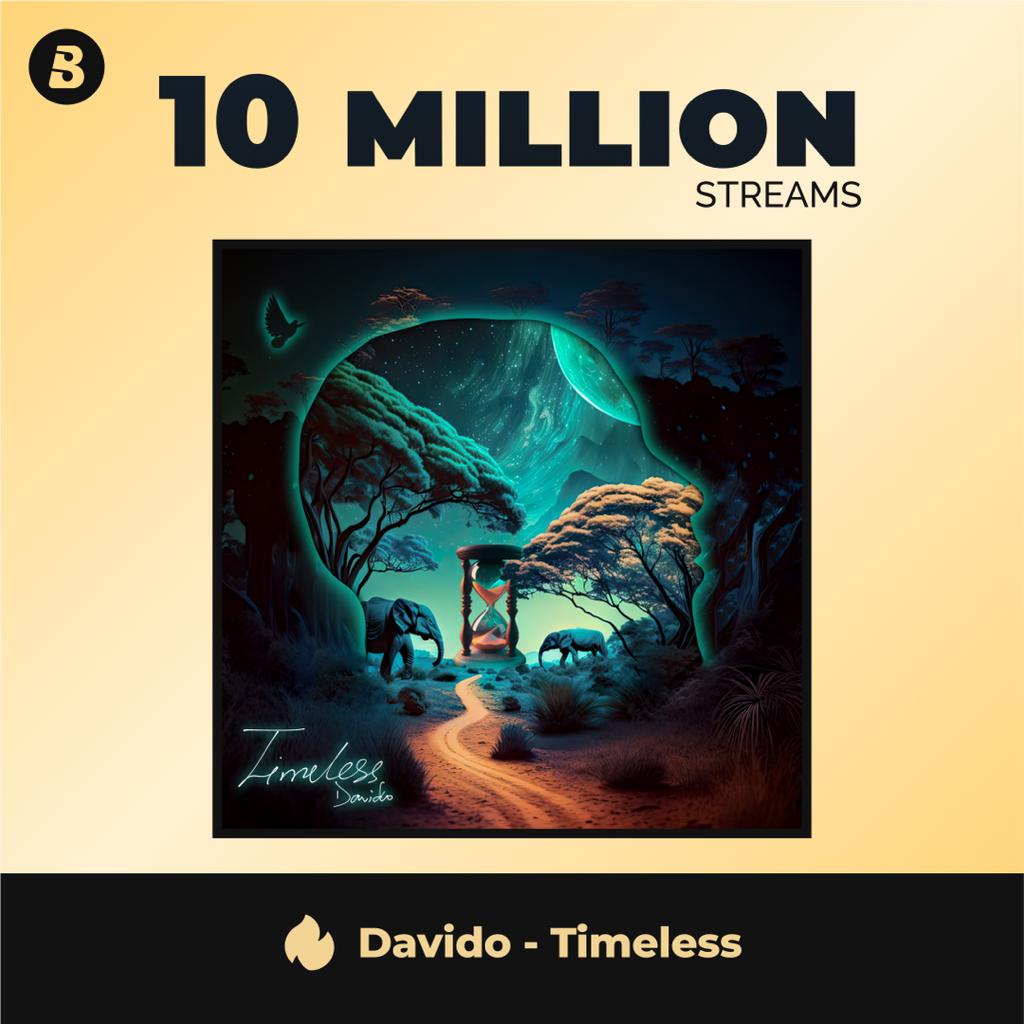 Global artist and superstar, Davido has released his much-anticipated fourth studio album "Timeless" which has amassed 10,000,000 streams and counting in less than 48 hours on Boomplay.

Since its release on the 31st March, 'Timeless' recorded 1 million streams in less than six hours and inched up in its streak to 5 million streams in about 16 hours after its arrival, making it the first album to achieve this new and historic feat on Boomplay.

'Timeless' as many predicted is currently trending and receiving major reviews online. The body of work features a collection of 17 tracks that showcases the Davido's signature style and musical versatility with collaborations and guest appearances from a range of talented artists, among others.

The album boasts of Nigerian artists like The Cavemen, Fave, Asake, Beninese-French singer-songwriter Angelique Kidjo, British-Nigerian rapper Skepta, South African music producer/DJ Musa Keys, and Jamaican dancehall/reggae singer Dexta Daps. Tracks 3 (In The Garden) and 14 (Picasso) feature DMW's latest additions, Morravey and Logos Olori.

Recall that Davido earlier made the announcement of his return to the music scene across social media with a video montage capturing his career and journey. "There is a time for everything. A time to grieve and a time to heal. A time to laugh and a time to dance. A time to speak and a time for silence," he shared. "I do all of this in my own time, grounded by your love which is TIMELESS."

Davido is known for his dynamic and innovative approach to music, blending different genres to create a unique sound that has earned him a huge following both in Nigeria and globally. His previous albums, including "Omo Baba Olowo", "A Good Time" and "A Better Time", have all been well-received and have helped to consolidate his position as one of Africa's most popular and influential artists.

The acclaimed 'Timeless' album marks Davido's fourth album since 2020's 'A Better Time' which has garnered over 76.9M streams on Boomplay, surpassing 'A Good time'- 46.9M and hit single, Stand Strong; 26.8M streams.

'Timeless' offers a unique blend of genres, from Afrobeat to R&B to hip-hop, showcasing Davido's ability to create music that is both eclectic and deeply personal. The album explores themes of love, life, and the pursuit of happiness, with Davido's smooth vocals and catchy melodies guiding listeners through each track.

The album is a must-listen for any fan of contemporary African music or anyone looking for a fresh and exciting take on global pop culture. Go Listen!